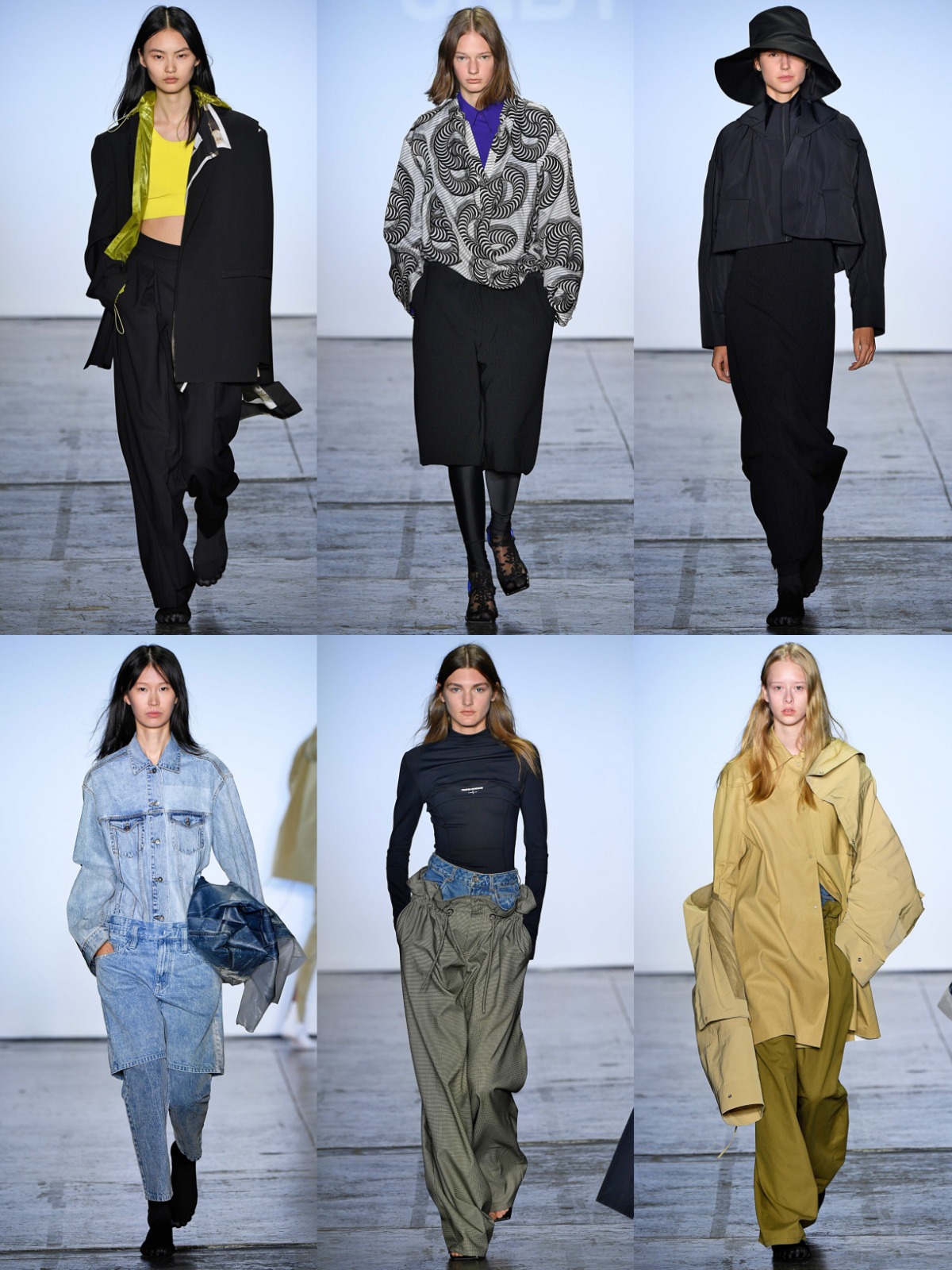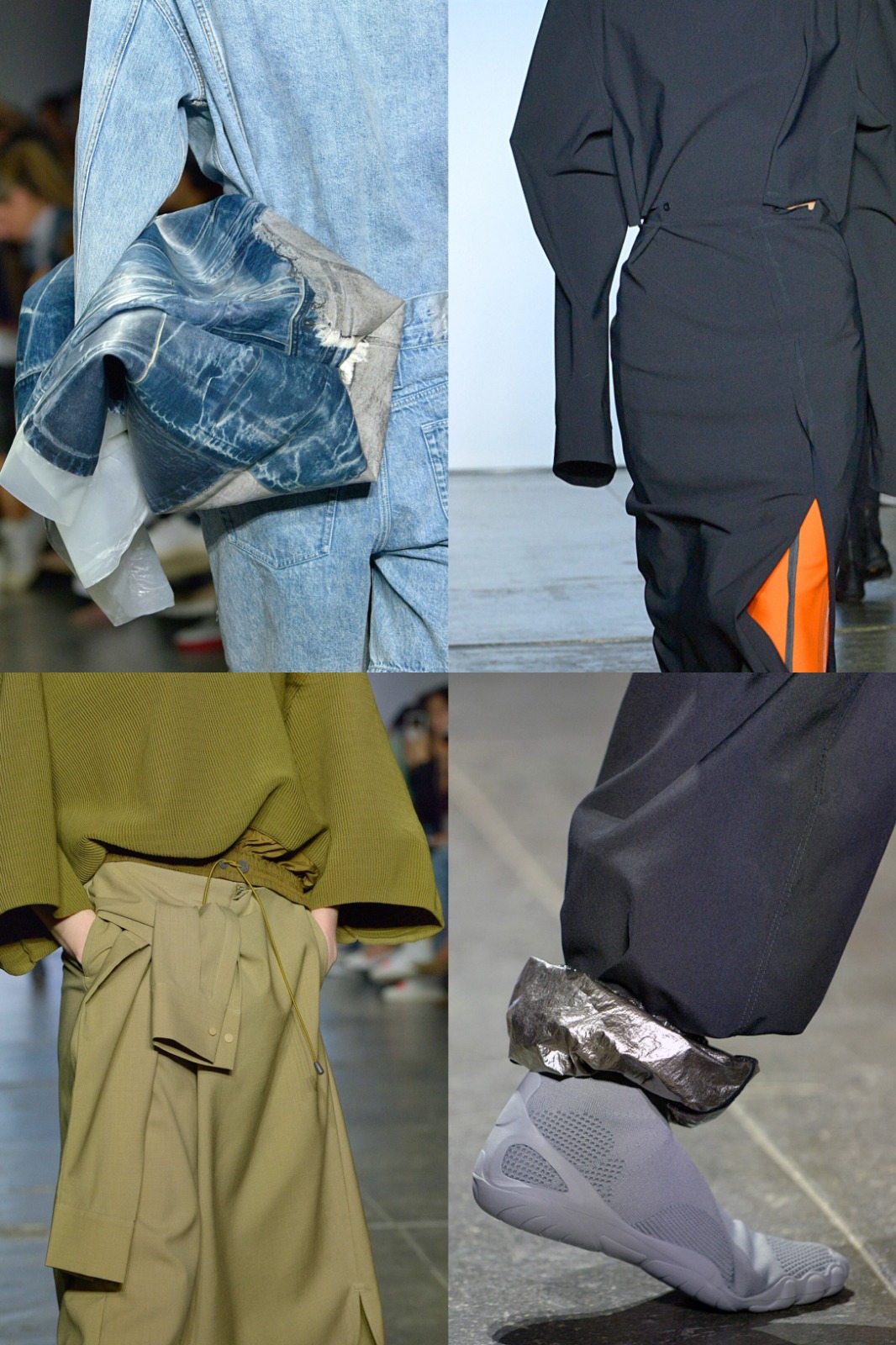 爆破、膨胀、熔断、窒息,消解、重塑、连接、架设,放大、垒砌、拼组、挤压——这是一个沿一串动词去记述要比用任何细腻描写都更加贴切的时装系列。
以「无界限 Unlimited」为题旨与理想,JNBY 2019 春夏系列重新审视当下景观的语法规则——从身体与时装的格式,到物质与精神的分野;从语言结构在信息流中的嬗变,到技术工具在流行中被确立起的信仰...... 当下景观与所谓「矩阵」(Matrix)不同,它不是完全的阴谋也称不上什么理想主义的乌托邦,我们时而完全可以去雀跃是人类的创想与进步推动了它,时而,又的确被那些文明发展中所自然积淀、必然需要的概念而束缚了手脚——近来所讲的身体意象焦虑、身份认同危机、政治正确、同侪压力、感知脱敏无不反映了这一现实困局。在物质丰富、手法纯熟、高度发达的体系中,于个体来说,这是一个不施力就将被牵引的局面。所有可能刷新感知分辨率的、延展生活及生命尺度的、以质疑与思考定义我们为人的、提供另一种想象维度的时刻,都要求一种主动的捕捉与创造——如此有了这个系列和这个系列的那一串动词,有了它的逻辑链、爆发力与先锋性。
冲出这个景观与其结构,从否认它所赖以生存的「界限」开始。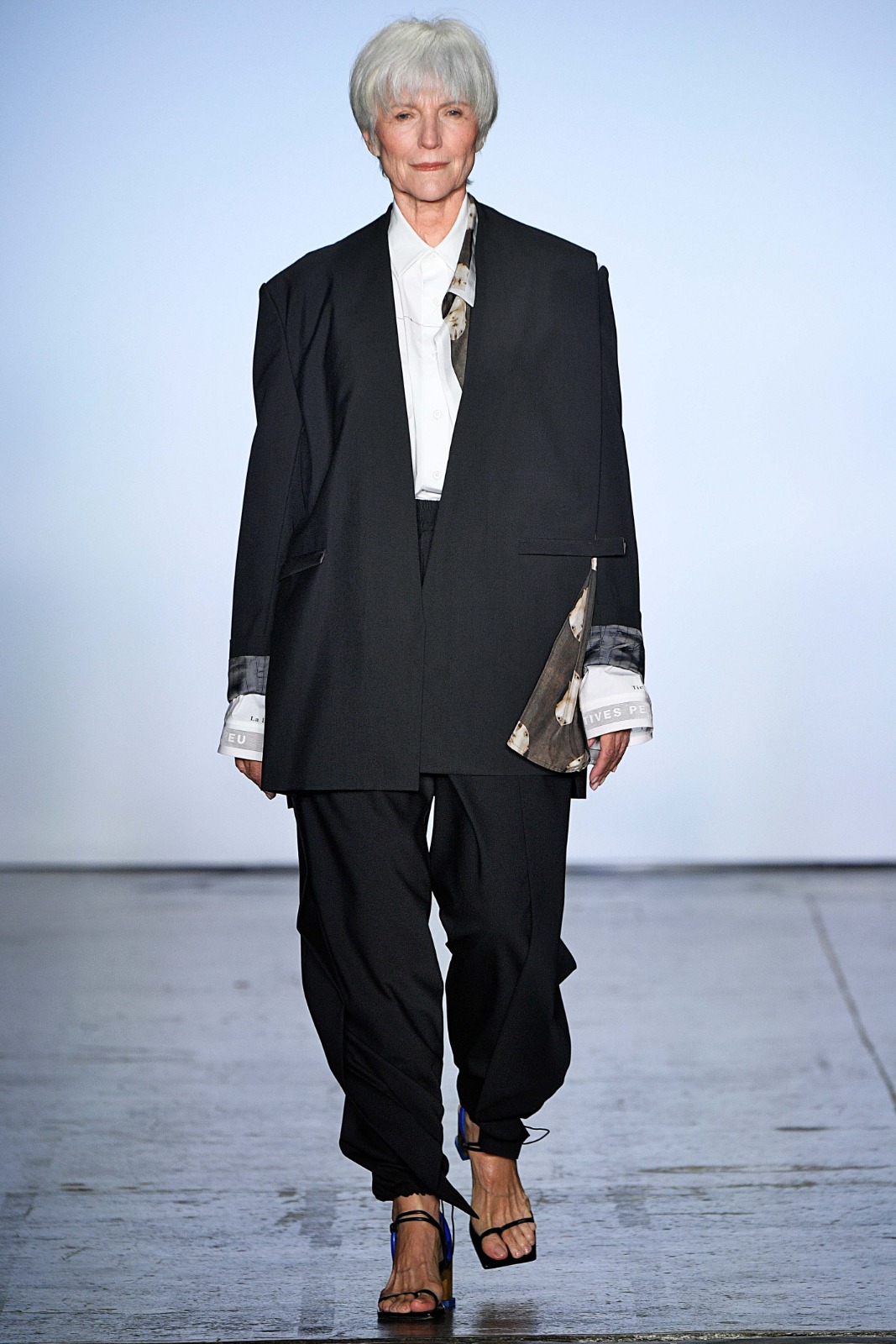 Maye Musk 为 JNBY 走秀


以效率为纲,当下社会结构中,「有用」与「无用」泾渭分明。我们拿起最经典、最擅长的衬衫、薄风衣、短夹克、轻量单宁等组合去重构其形态、揉捏其质感,在最强调功能性的运动服装上重新推敲其与裸露肌肤、自然状态、日常服装、时装手法更具张力的互动关系、交融可能——换句话说,我们希望这个「新功能主义」的功能即是超越功能、服务官能,不将绝对的角色或场景全盘交代;我们希望自主的创作与创意选择拥有比任何既定概念都更强的力量,定义个体在社会角色、生命阶段等等光谱中的波段。
从物件过渡至人类活动,与有用、无用相对应的概念就变成「正式」、「讲究」与「随机」、「临时」。出于便捷而稳定的目的,我们总是拒绝承认或逐渐忘记了礼仪、西装、职业身份皆非自然的状态,更普遍的,是肢体接触在文化意义中微妙的滑动,是正式场合因绝对板正而随时可能倒向荒谬荒诞、引人发笑的危险瞬间,是个体性格与职业身份相互角力并彼此不断重新定义的含混存在...... 它们于集体秩序而言是挑衅,于日常经验而言却是远还有更多琢磨可做的即兴片段。
![Image](https://i.typlog.com/niki/3J/ORTmVEjZs68wG50VhC3A.jpg) _Erwin Wurm 'One Minute Sculptures'_
**奥地利艺术家 Erwin Wurm 的「一分钟雕塑」系列**启发了我们——雕塑这一艺术形式为历史、永恒、崇高与英雄主义而诞生,Wurm 却正是瞄准这点,将跌倒、失重、发呆、偶尔的天马行空、尴尬的相遇、日常的消费品等等夸张元素融入进来,以生活本身的荒谬滑稽这一题材以及由模特保持姿势一分钟来「形成雕塑」的手法去质疑那些我们在艺术与艺术之间、生活与生活之间所不知不觉划上的界限。具体到 JNBY 2019 春夏系列中,我们试图跳出工业装组式的「使用」、文化研究式的「挪用」,一切尝试都都不过一笔轻巧的「征用」——不同时间、空间、文化与它们的日常所代表的面料材料、行为习惯、自然表现,它们可能是塑料的、街头的、不完整的、不知所云的,但无一不是真实的。征用所生成的形象在秀场上完成它们的「一分钟」,身份尚未生成或已经销毁,年龄、职业、状态、目的地,个个有几百几千种的永远不存在答案的组合——所谓「无界限」。
![Image](https://i.typlog.com/niki/da/5AmW2g1Nj2KDgYKmPYSw.jpg) ![Image](https://i.typlog.com/niki/sw/u4ehgRE-R9e8_FHSOc0g.jpg)
我们还完全可以为景观掷下更多的恼人的(disturbing)玻璃碎片:大量的图案的运用是本系列的另一主要特征,其内容涵盖数码绘画在古典油画上的叠加、数位笔触对传统符号的描摹、结合波普风格与非洲传统纹样的几何重复以及任由点线去生长的曲面纹路,它们铺陈开来,藏在那些形态语言的内里,像是再将这个系列在时间与空间、介质与角色之间满不在乎的丈量方式完整托出。
去想象、创造并拥抱那另一种可能,「无界限」作为一种姿态、状态、尝试与愿景,向一切被信以为真的,发起挑战。
Explode, expand, fuse, suffocate, dissolve, reconstruct, connect, enlarge, build, combine, extrude – this is a fashion collection that suits a string of verbs more than any other delicate description.
With "Unlimited" as the theme, JNBY Spring/Summer 2019 Collection reevaluates the existing formulas of body and clothing; physicality and mentality; changeful language structure in the flows of information and the status of technological tools in trends…The current status quo, neither a conspiracy nor a utopia, is different from the so-called "Matrix". We should be proud because the creativity and progress of mankind lifted it. But also, be aware that our civilization also restrains us. Anxiety of body image, identity crisis, political correction, peer pressure and insensibility all reveal this difficult situation. As individuals in the era of material abundance and well-developed techniques, either we move or we will be moved. We have to actively capture and create, to deepen our feelings, expand our life's dimension, and question the definition of human. That is how this collection is born, as well as the string of verbs and its logical link, power and avant-garde character.
Denying the "limit" is the first step of breaking the status quo.
With efficiency as the leading principle, "functional" and "unfunctional" are incomparable. We redesigned the most classic, such as shirts, light coats, jackets, denim jeans et ectara. As for sportswear which requires most practicality, we examine its tension and correlation with exposed skin, natural state, daily clothing, fashion and how they spontaneously blend. In other words, we hope to define "New Functionalism" as beyond function, beyond occasion, beyond identity. We hope our own inventions and choices will define our roles in the society and in the course of life more and better than social norm.
In terms of social activity, functional to unfunctional become formal to careless, exquisite to transient. For our own convenience and inertia, we reject or ignore the fact that etiquette, suit and occupational identity are not of our natural state; moreover, we overlook the meaning of body contact which is subtly changing, the overly uptight formal situations that may turn absurd at any time, and the ongoing contest between individuality and occupational identity that constantly reshape and reform one another. They are a threat to the collective order. Yet to daily experiences, they are impromptus to be studied. Austrian artist Erwin Wurm inspires us with his One Minute Sculptures, in which the models "create a sculpture" temporarily by posing for one minute. Sculptures, originally created in virtue of history, eternity, sublime and heroism, are integrated with absurd yet humorous elements such as tumble, zero gravity, petrification, whimsy, awkward encounter and commodity in the hands of Wurm. It questions the limit we draw unconsciously in and between life and art. In JNBY Spring/Summer 2019 Collection, we try to avoid industrial "utilization" and cultural "appropriation". Instead, we simply "apply". Different time, space, culture and their corresponding textile, behavior, natural representation – no matter they are plastic, or street, incomplete or illegible – are undeniably real. When applying these constructed images on the show for "one minute", their identity crushes before it's formed. Thousands of possible combinations of age, occupation, state and destination come into existence and evaporate simultaneously, and that, is what they call "Unlimited".
Generating more disturbing glass fragments for the status quo, this collection features vast use of patterns – we overlay digital graphics on top of classical oil paintings, and depict traditional symbols with digital brushstrokes. Besides, we combine the repetitive geometry patterns of Pop art and traditional African style, letting points and lines grow on the curves of dimensions. They crawl into the morphology language, displaying this collection's carefree measurement for time and space, medium and role.
Envisioning, creating and embracing the alternative, "Unlimited", a state of mind, an experiment, a hope, challenges the established truths.
---
JNBY 是发布于 1990 年代的中国设计师品牌。
在「现代、活力、意趣、坦然」的美学宗旨之下,JNBY 时装及内容输出全线从「生活」出发,体察现实,注重感知,探索意趣,一方面通过材质研发与工艺提升去丰富设计的层次,赋予日常着装质感细腻、忠于自然的情感还原,呼应都市青年、独立女性在私人衣橱、身份认知、生活场景、风格个性中的必然跨度;另一边,JNBY 的好奇心与当代性又反映为落在主题概念、广告视觉、店铺形象、胶囊系列、艺术合作等等呈现上的格外关注与勇敢尝试,多重视角相互叠加、再作演绎,构筑一个与世界场景对话、和年轻世代共进的更大品牌语境——于身于心,于内于外,那句经典的生活口号「Just Naturally Be Yourself」解释为一种态度、实践与状态,不是不施雕琢,不是放任自流,讲究的是忠诚的自我探索,是对自我有所把握的放松节奏。
JNBY 服务于自信而自由的人群,以时装为载体,共享那些我们在生活中捕捉的诗意、灵感与思考,更是共享一路引向这些所知所得的我们的视角。
去为日常穿衣提供这样轻逸而不轻渺的自如体验,JNBY 将突破口视作对衬衫、风衣、半裙等女装经典以及对运动装的双线关注——再寻常不过的两大门类中,JNBY 自创立之初便致力于为它们再译传统、融合重组,从艺术、建筑、文学或者就是日常中那些被忽略的片段中汲取灵感,在那些二者为轻便与功能所作出的牺牲上寻求新解,偏偏要做出不寻常的节奏与结构来,溶解那些属于着装条框、美学常规、日常循环的坚固性与漫长无聊。JNBY 希望借助时装与艺术的手段去畅想一种跨越年龄、性别、身份定义的表达可能,模糊生活场景,展现生活方式的多样性本质,如此也寄托 JNBY 对当下信息时代的反思回应与面向未来的积极态度。
近些年来,沿着建立国际化品牌印象、推动年轻态转型的战略,JNBY 在推广方面也着重带来了一系列再定义品牌气质、再扩展品牌标签的动作。JNBY CURIOUS 是 JNBY 旗下一个多媒体长期创意项目,它旨在与全球范围内青年创作者展开合作,以视觉、装置、互动、衍生品等形式去展现当下文化景观中尚未被发掘的意趣、冲突甚至荒谬,JNBY 的态度和创作在此既是工具也是介质,核心即为受众打开新的感知体验与创意潜能。
JNBY is a Chinese designer brand launched in the 1990s.
With "modernization, vitality, interest, and calmness" as aesthetic concepts, JNBY stems from "life", focusing on reality, sensibility, and serendipity. By concentrating on research and improvement of materials, our designs make daily clothing exquisite and organic, and cater to young and independent women's various needs for identity, occasions and distinctive styles. Furthermore, JNBY presents its curiosity and contemporaneity with exceptional focus and bold experiments on theme concept, advertisement vision, store image, capsule collection, artistic collaboration et cetera, as well as recreation of perspectives and conversation with the world and the Zeitgeist. Outside or inside, the classic slogan "Just Naturally Be Yourself" is an attitude, practice and a state of mind. Rather than indulgence or indelicacy, it is about devotion to self-discovery and ease with self-control.
JNBY is made for people with confidence and freedom. In addition to the poetry, inspiration and thought captured in our daily life, it also shares our approaches and perspectives through the medium of fashion.
To create an effortless yet stylish dressing experience, JNBY devotes itself to the two most common yet essential catalogs – one is classic women's clothing, such as shirt, coat, skirt et cetera; the other is sportswear. Ever since it's founded, JNBY has been focusing on reinterpreting, reconstructing and recreating the traditional by finding inspirations from art, architecture, literature and the unnoticed in the mundane. Breaking the aesthetic rules, dissolving the traditional structures and the quotidian ennui, we seek innovative solutions to keep fashion light and practical. By the means of fashion and art, JNBY envisions an expression across age, gender and identity, and to demonstrate the diversity of lifestyles, so as to convey our reflections and responses to the Digital Age, and the positive attitude toward the future.
In recent years, JNBY has redefined the brand's temperament and expanded the market by building an international brand image and targeting the younger generation. JNBY CURIOUS, a longtermly creative project by JNBY aiming for young creators' global collaboration, unearths the undiscovered interest, conflict, even absurdity in contemporary culture via vision, installation, interaction, and derivation. JNBY's attitude and creation are not only tools but also mediums through which it brings to light a new way of sensory experience and creative potential for the audience.